"The greatest Guru that we have is love, Sahaj love, is the Guru within us, which teaches us, which somehow or other leads us."
Shri Mataji Nirmala Devi
Follow the session again
If you missed the session for beginners, here you can follow it again:
Homework for beginners 🙂
Was it your first time meditating with us? We look forward to sharing this journey with you in the following weeks! And we hope you feel ready from the second week to join the main course focused on our energy centers. Please enjoy this recorded session – a meditation on our innocence, during the week, before our next meeting:
How to raise Kundalini and give bandhan, before and after meditation:
Self-realisation led by Shri Mataji Nirmala Devi:
Illustration of Kundalini and Subtle system
A short film about Nabhi and Void
The Void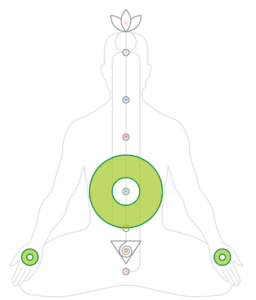 The Void is the space between our current awareness and enlightened awareness, which is blocked when we are still in a state of spiritual ignorance. When cleared, the void facilitates our 'guru' principle, whereby we are naturally able to discern what is necessary to keep ourselves in a balanced state.
The Void, or 'Bhavasagara', is located within our abdominal cavity and is the center of our self mastery. It contains the Nabhi Chakra in its center, while the Swadisthan Chakra rotates around it thus creating its circumference. As the Nabhi Chakra governs our sense of satisfaction, and the Swadisthana Chakra controls our attention, the gap between them represents how far our attention is from the truth of our existence.
When our attention is caught up in materialistic ideas of money and possessions, or fixated on our family, our work, our achievements or failings, then the Void may become blocked. On the other hand, when we clear our Void we are able to guide ourselves and others with a clear awareness of reality.
Read more about Void.
"but the most important thing about Void is that that once you are enlightened, you become dharmic yourself. The Dharma starts flowing through your hand. These vibrations have a capacity to establish Dharma."
Shri Mataji Nirmala Devi